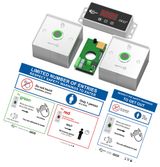 Watch Video
Customer Counter and Flow Control Kit OCO 2
Product code: Customer Counter and Flow Control Kit OCO 2
Control customer flow to your premises without the expense of positioning a member of your valuable staff at the door.

The OCO flow control kit counts the number of times the entry sensor has been activated and subtracts this from the number of times the exit sensor has been used.
You set the limit to the number of people who can be present simultaneously.